Welcome to our Website
We are very happy to welcome you to our website! In it we share about our Living Waters Ubon Ministry and invite you to participate in our various groups and seminars which aim to bless and support you in your walk with Jesus.
We are delighted to share with you about our last 5 day Living Waters Ubon Training which was held from 5-10 March 2023. It was led by Andrew Comiskey and Abbey Foard, joined by Tom Wright from LW USA, 4 LW India team members from Shillong, 3 from LW Philippines, a German missionary from China and 4 of us from Thailand. It was held in a rustic resort in Warin Chamrap, Ubon Ratchathani.
We had participants, including Pastors, from Southern India, Cambodia, Korea and of course Thailand. Looking at all these lovely faces gathered together in a forest in Ubon, was such a beautiful picture of the worldwide church of Christ.
The teaching was powerful and anointed. Participants were able to open their hearts and receive from the fountain of Christ's healing for their deep pain, as well as forgiveness for sin, which helped many to go to a deeper level of repentance. In a way, it was like watching folk truly coming alive in Christ. Many arrived burdened with sexual addictions, depression, and haunting wounds, but their radiant faces and enlivened spirits at the end, told an amazing story of God's faithfulness and mercy. Andrew said he felt it was one of the deepest events that we have held in Ubon.Thank You Lord.
Click here to watch the recordings from this 5-day Training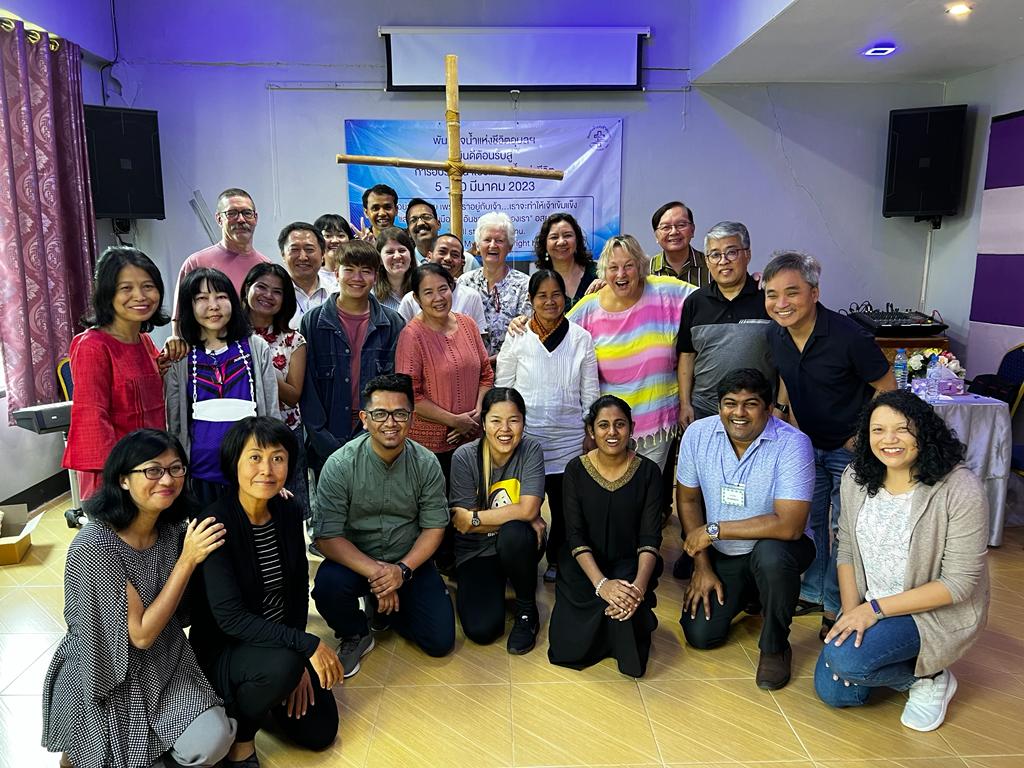 IMPORTANT ANNOUNCEMENT
We are happy to announce that on the 1st of May 2023, from 6pm-9pm, we will be starting our next 20 week Living Waters Ubon Program at Jesus Disciples Church, Ubon. If you are local to Ubon, we would like to encourage you to pray about joining us. "I will strengthen you. I will uphold you with My righteous right hand" Isaiah 41:10 Please see Calendar of Events below for more details.
Many of us were greatly blessed by Andrew Comiskeys recent 3rd December 2022 Ubon seminar, so we have attached a video recording of the main sessions which include some testimonies for you. Please click here for the VIDEO link
Also, to provide some further encouragement for you, we have attached nearly all of the 2018 Ubon Living Waters Training Teachings. These include many hours of inspiring listening on subjects such as Healing of Abuse, Healing of Wounds from our Loved Ones, Confession of Sin, Forgiveness and Escaping Sexual Addiction. These teachings are by Andrew Comiskey, Thai and International speakers. All the teachings are in English and Thai. To listen, please click here: AUDIO
We have many more teachings available in the form of MP3 and books. Please contact us if you are interested in these.
You can find many inspiring teachings by Andrew Comiskey on the web, just search for 'Andrew Comiskey YouTube' AND our NEW Living Waters Ubon YouTube or go to www.desertstream.org and find Andrew's blog.
If you would like to find out more about Living Waters Ubon Ministry or feel in need of encouragement and/or prayer, please feel free to call 0950671938. We are happy to talk with you and pray for you.
God bless you,
Sue Hunt and the LWU team