Welcome to our Website
We are very happy to welcome you to our website! In it we share about our Living Waters Ubon Ministry and invite you to participate in our various groups and seminars which we pray will support and bless you in your walk with Jesus.
It has been a busy and fruitful time for us here at LWU. We held a 20 week Living Waters Program every Monday night (6-9pm) from May to September 2023, in a local church in Ubon. We were blessed to see the participants, including local Pastors, receive deeply from the Lord.
We also enjoyed a great time of fellowship with our friends on the 2nd October 2023 during our Fellowship and Pizza event in Ubon. We were a group of about 30 people.
As we are aware that many Christians even need help in clarifying the importance of gender, we invited Pastor Andrew to record a brief video clip on that subject.
Please click here for the clip of Pastor Andrew Comiskey speaking on the Importance of Gender.
(For those interested, we have translated this video into Thai and Cambodian. You will find it on our Thai page; for access just click the first LINK on the first page under ยินดีต้อนรับเข้าสู่เว็ปไซต์ ).
IMPORTANT ANNOUNCEMENT
Our next 5 DAY LIVING WATERS UBON TRAINING WILL BE HELD IN UBON FROM Sun. afternoon 14 - Friday midday 19 April 2024 (the Songkran festival week), AT NHAM SUP UBON RESORT, WARIN, UBON (the same resort as last year). IT WILL BE LED BY ANDREW COMISKEY AND A THAI AND INTERNATIONAL TEAM. THE TRAINING WILL BE OPEN TO CHRISTIANS FROM OUR NEIGHBORING COUNTRIES ALSO.
Application forms both in Thai and English will be available from the end of the year. Please book early to secure your place!
Our last 5 day Living Waters Ubon Training was held from 5-10 March 2023. It was led by Andrew Comiskey and Abbey Foard, joined by Tom Wright from LW USA, 4 LW India team members from Shillong, 3 from LW Philippines, a German missionary from China and 4 of us from Thailand. It was held in a rustic resort in Warin Chamrap, Ubon Ratchathani.
We had participants, including Pastors, from Southern India, Cambodia, Korea and of course Thailand. Looking at all these lovely faces gathered together in a forest in Ubon, was such a beautiful picture of the worldwide church of Christ.
***Most of the teachings from our 2023 Living Waters Training are on our YouTube channel in both English and Thai. Please click here to watch them.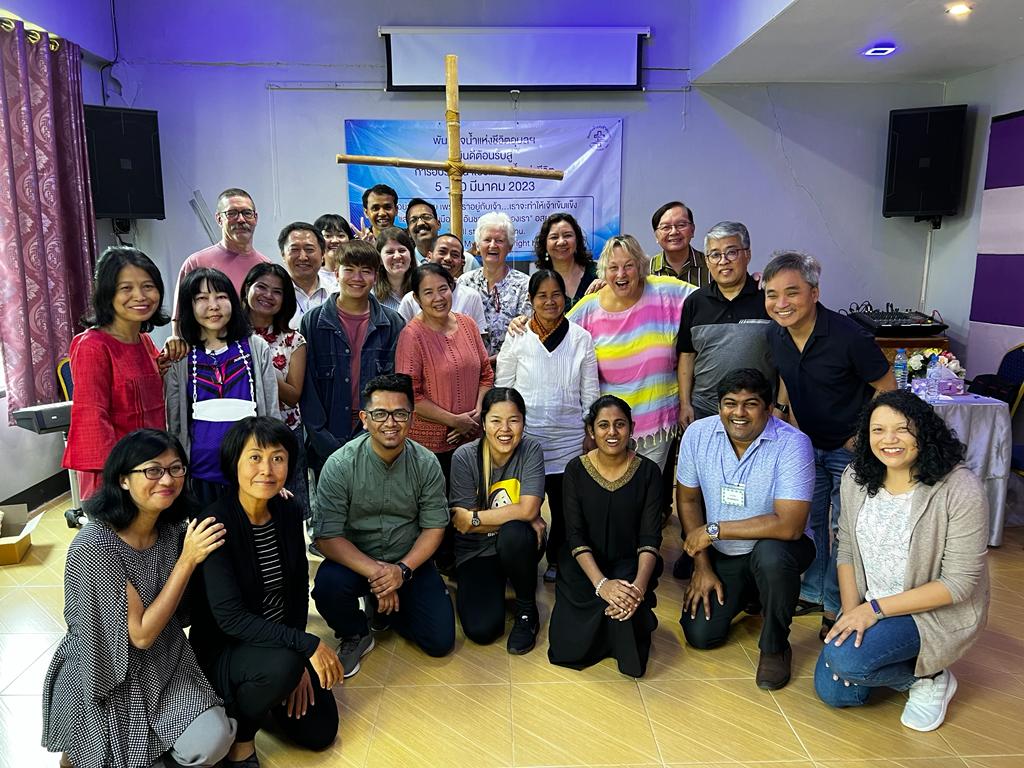 Many of us were greatly blessed by Andrew Comiskeys recent 3rd December 2022 Ubon seminar, so we have attached a video recording of the main sessions which include some testimonies for you. Please click here for the VIDEO link
We have many more teachings available in the form of MP3 and books. Please contact us if you are interested in these.
You can find many inspiring teachings by Andrew Comiskey on the web, just search for 'Andrew Comiskey YouTube' AND our NEW Living Waters Ubon YouTube or go to www.desertstream.org and find Andrew's blog.
NEWS regarding our LWU Team
Sue Hunt has been based in Thailand since 1999. She led Living Waters Thailand in Bangkok for 10 years, and has led Living Waters Ubon for the last 9 years. Sue will be returning to the UK more permanently in October 2024 for various ministry commitments there.
We are happy to announce though, that LWU will continue under the leadership of Moses and Lee Ponpukdee who have worked closely with Sue over the last few years and who Andrew Comiskey has appointed to continue leading LWU ministry here. Sue says she is delighted that in the near future LWU will be under the leadership of local Thai Christians and is excited about what the Lord has in store. Moses and Lee will take over from Sue from June 2024.
If you would like to find out more about Living Waters Ubon Ministry or feel in need of encouragement and/or prayer, please feel free to call 0950671938. We are happy to talk with you and pray for you.
God bless you,
Sue, Moses and Lee
"I will strengthen you. I will uphold you with My righteous right hand" Isaiah 41:10